Posts for tag: cosmetic dentistry
By Mark Kedzierski, DDS, PL
February 07, 2019
At the first-ever Players Weekend in August 2017, Major League Baseball players wore jerseys with their nicknames on the back. One player — Cleveland Indians shortstop, Francisco Lindor — picked the perfect moniker to express his cheerful, fun-loving nature: "Mr. Smile." And Lindor gave fans plenty to smile about when he belted a 2-run homer into the stands while wearing his new jersey!
Lindor has explained that he believes smiling is an important part of connecting with fans and teammates alike: "I've never been a fan of the guy that makes a great play and then acts like he's done it 10,000 times — smile, man! We've got to enjoy the game."
We think Lindor is right: Smiling is a great way to generate good will. And it feels great too… as long as you have a smile that's healthy, and that looks as good as you want it to. But what if you don't? Here are some things we can do at the dental office to help you enjoy smiling again:
Routine Professional Cleanings & Exams. This is a great place to start on the road toward a healthy, beautiful smile. Even if you are conscientious about brushing and flossing at home, you won't be able to remove all of the disease-causing dental plaque that can hide beneath the gum line, especially if it has hardened into tartar, but we can do it easily in the office. Then, after a thorough dental exam, we can identify any problems that may be affecting your ability to smile freely, such as tooth decay, gum disease, or cosmetic dental issues.
Cosmetic Dental Treatments. If your oral health is good but your smile is not as bright as you'd like it to be, we can discuss a number of cosmetic dental treatments that can help. These range from conservative procedures such as professional teeth whitening and bonding to more dramatic procedures like porcelain veneers or crowns.
Tooth Replacement. Many people hide their smiles because they are embarrassed by a gap from a missing tooth. That's a shame, because there are several excellent tooth-replacement options in a variety of price ranges. These include partial and full dentures, bridgework, and dental implants. So don't let a missing tooth stop you from being Mr. (or Ms.) Smile!
If you'd like more information about oral health or cosmetic dentistry, please contact us or schedule an appointment for a consultation. You can also learn more by reading the Dear Doctor magazine articles "Beautiful Smiles by Design" and "The Impact of a Smile Makeover."
By Mark Kedzierski, DDS, PL
December 09, 2018
As December brings the old year to a close, it's a great time to set goals for the year to come. This might include a major life change, such as a new job—or even a new romance! If one of these items is on your list for 2019, a smile makeover may be just the thing to help you get there.
Having a great smile can give your self-confidence a real boost. It can also affect how you are perceived by others. According to a survey by the American Academy of Cosmetic Dentistry, 99.7% of adults believe a smile is an important social asset and 96% believe an attractive smile makes a person more appealing to members of the opposite sex. At the same time, three quarters of adults feel that an unattractive smile can hurt a person's chances for career success.
If you aren't pleased with your smile and want a new look, we can help you figure out which cosmetic dental treatments could be right for you. The answer might be something simple—like an overall brightening of the smile with professional teeth whitening, or fixing a small crack or chip in a single tooth with cosmetic tooth bonding. If you're unhappy with worn-down or crooked teeth, dental veneers or orthodontic treatment might be the way to go. In fact, many adults find that orthodontic treatment with clear aligners is a great way to get a beautiful, straight smile without drawing attention to the fact that a makeover is in progress.
Of course, it's not only important for your smile to look good but also for your whole mouth to stay healthy. So if you are experiencing any tooth pain, unusual mouth sores or gum problems, it's time for you to come in for an exam. And if it's been a while since you've had a dental checkup and professional teeth cleaning, why not make an appointment for early in the year? Don't start the new year with last year's dental problems!
If you would like more information about cosmetic dental treatments or preventive dentistry, please contact us or schedule a consultation. You can also learn more by reading the Dear Doctor magazine articles "How Your Dentist Can Help You Look Younger" and "Dental Hygiene Visit."
By Mark Kedzierski, DDS, PL
January 04, 2018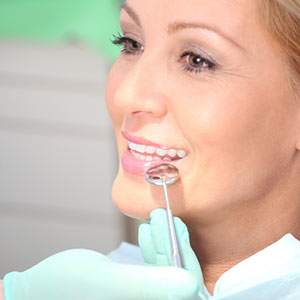 The mark of a great dental restoration is that you can't see it. It's there in plain sight, but others observing your new and improved smile can't tell the difference between the restoration and your natural teeth. Everything looks, well, natural.
That's the great advantage of dental porcelain. A dental technician with technical skill and artistic flair can form this inorganic, ceramic material into a life-like replica of your tooth, with a shape and color that blends in with the rest of your teeth. And because of its strength properties, porcelain restorations can hold up to the normal chewing and biting forces in your mouth, as long as you use prudence when biting down on hard substances.
Porcelain is also highly adaptable to different kinds of restorations. For natural teeth still viable but no longer attractive, porcelain can be the main ingredient in two very popular and effective restorations, the veneer and the crown. Although the porcelain material is the same for both, their construction and application are quite different.
Veneers are very thin laminated layers of dental porcelain custom-colored and shaped for bonding to the outer visible portion of a tooth. They're a great solution for relatively decay-free teeth that have minor to moderate defects like chipping, slight misalignment or heavy staining. They often require some permanent removal of tooth enamel to ensure their appearance isn't too bulky, but causes minimal impact to the tooth.
Crowns, on the other hand, are complete tooth replicas that are bonded in place over an existing tooth like a cap. They're a good choice for teeth in which the root and inner layers are still viable, but the tooth has been significantly damaged by decay or trauma. They're also useful as a protective cover for teeth that have undergone root canal treatment. But unlike the minimal impact of veneers, crowns require significant tooth alterations to accommodate them.
In either case, though, the end result is much the same: both crowns and veneers can be fashioned to precisely mimic the shape, color and texture of natural teeth. In skillful hands, these porcelain restorations can transform your smile for the better and no one but you and your dentist will ever need to know.
If you would like more information on porcelain restorations, please contact us or schedule an appointment for a consultation. You can also learn more about this topic by reading the Dear Doctor magazine article "Porcelain Crowns & Veneers."